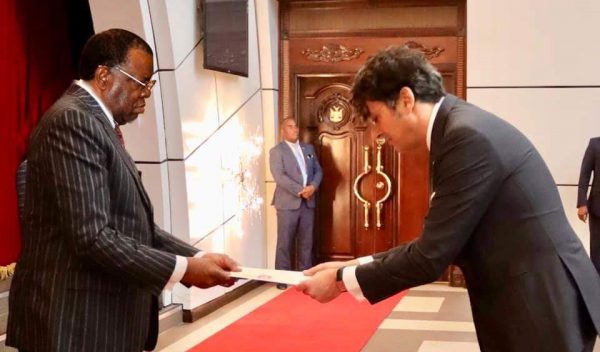 Between 2005 and 2009 negotiations began to establish bilateral relations between the Republic of Namibia and the Order of Malta, through the efforts of Professor Marcello Bandettini and Mr. Giacomo Berutto. The Order of Malta's diplomatic relations with the Republic of Namibia were formally established in 2009: Professor Marcello Bandettini was then appointed as first Ambassador on 31st March 2009, and in the same year the Embassy was formally opened in Windhoek.
During Ambassador Bandettini's office, the relations between the two Countries constantly developed and became increasingly more intense. The Order's presence on Namibian territory was therefore furtherly institutionalized, and the Embassy has been included in the 2019 Diplomatic List of States accredited to the Republic of Namibia. On 20th February 2020, Ambassador Giacomo Berutto presented his Letters of Credence to President Hage G. Geingob, while on 30th September 2021 Ambassador Linda Scott presented her Credentials to the Lieutenant of the Grand Master Fra' Marco Luzzago in Rome.
From the outset, the Embassy started to carry out charitable initiatives in order to meet the needs of the local populations and put into practice the Order's carisma Tuitio Fidei et Obsequium Pauperum, service to the Poor and witnessing of the Faith. Since 2009, the Embassy's commitment has grown in collaboration with Government Authorities and with Representatives of the Catholic Church, in particular the Apostolic Nuncio and the Archbishop of Windhoek.